Museum of London showcases rare Roman sarcophagus in first public display
The sarcophagus had been opened and most likely robbed in the 1600s, however most of a skeleton was found inside and enough has remained to reveal that the occupant was a woman. Carbon dating of her bones showed that she had been buried between AD 86 and 328, although other dating evidence from the site suggests a burial date of AD 275-328.
LONDON
.-
In 2017 a rare Roman sarcophagus was excavated from Harper Road in Southwark; a site that archaeological research has shown was part of a large Roman cemetery. Today, the
Museum of London Docklands
reveals that this remarkable discovery will be on display for the first time in a major new exhibition, Roman Dead, which opens on 25th May 2018. London's complex Roman burial landscape is an important source of historical knowledge, providing insight into Romans' religious beliefs and their treatment of the dead. This new exhibition will investigate the cemeteries of ancient London, examining the discoveries that were made there and their context within today's modern cityscape. Exotic grave goods from across the Roman Empire are just some of over 200 objects on display. Highlighted are an expensive multi-coloured glass dish found with cremated remains and a jet pendant in ...
More
The Best Photos of the Day
Middelheim Museum Antwerp acquires a Bruce Nauman masterpiece
Paul Kasmin Gallery announces representation of the Estate of Stuart Davis
Kunsthaus Zurich to receive the collection of Gabriele and Werner Merzbacher


Bruce Nauman, 'Diamond Shaped Room with Yellow Light', 1986-1990/2018. Photo: Tom Cornille.



ANTWERP.- Thanks to an especially good cooperation between the City of Antwerp and private partners, the Middelheim Museum is being presented with the rare opportunity of expanding its collection with an important work of art. This concerns the Diamond Shaped Room with Yellow Light by the American artist Bruce Nauman. The work will be presented to the public as a key work in the exhibition Experience Traps, which will be opening on 1 June as part of the cultural city festival Antwerp Baroque 2018. Rubens Inspires. "Bruce Nauman is an artist who is well-known as one of the godfathers of western contemporary art. It is almost impossible to overestimate his influence on artists of the following generations worldwide. Thanks to the sustained patience, the intensive collaboration with private partners and the resolve of all concerned, we are extremely proud that today we can say that this work – a unique creation from ... More



Known for his boldly colorful abstract works that fuse jazz references with New York City landscapes and daily objects, Davis paved the way for modernism in America and his impact endures today. ?Estate of Stuart Davis/Licensed by VAGA, New York, NY.



NEW YORK, NY.- Paul Kasmin Gallery announced worldwide representation of the estate of Stuart Davis (1892–1964), one of the preeminent figures of the early American Modern movement. Known for his boldly colorful abstract works that fuse jazz references with New York City landscapes and daily objects, Davis paved the way for modernism in America and his impact endures today. In collaboration with Earl Davis, the artist's son, an exhibition of Davis' rarely seen black-and-white paintings and works on paper is scheduled for fall 2018 in the gallery's 293 Tenth Avenue space. Born in Philadelphia in 1892, Davis was encouraged at an early age by his parents to pursue painting and went on to study in Manhattan under Robert Henri. Henri, the leading figure of the ... More



Pablo Picasso, Le couple (Les Mis閞ables), 1904. Oil on canvas, 100.5 x 81.5 cm. Werner and Gabriele Merzbacher Collection ?2018 ProLitteris, Zurich.



ZURICH.- The Kunsthaus Z黵ich is to receive the collection of Gabriele and Werner Merzbacher as a long-term loan, one of the most important private collections of modern art. A total of 65 works have been promised to the Kunsthaus for at least 20 years. They include paintings by the great masters of Impressionism, Post-Impressionism and Fauvism, members of the 'Br點ke' and 'Blauer Reiter' groups, and many more. The cooperation, which involves 65 paintings and a minimum commitment of 20 years, is a gesture of gratitude to Zurich and Switzerland by Werner Merzbacher, who was born in Oehringen, Germany, in 1928 and came to Switzerland as a child refugee in 1939, and a chance for him to share his passion for art with the public at large. The Kunsthaus Z黵ich has been given the opportunity to view almost 200 paintings and sculptures and ... More
Pinakothek der Moderne marks the anniversary of the second edition of Giorgio Vasari's 'Vite'
Christie's Spring Season of Latin American Art, totals $31,258,125
A major work by Kees van Dongen to be offered for the first time at auction


Giorgio Vasari (1511–1574), The Archangel Michael, ca. 1541. Pen and brown ink, heightened with white, on yellowish-brown tinted paper, 539 x 413 mm. Staatliche Graphische Sammlung M黱chen ?Staatliche Graphische Sammlung M黱chen.



MUNICH.- 450 years ago, Giorgio Vasari (1511–1574) published the second edition of his Vite, a collection of biographies of famous artists from the 13th to the mid-16th century. Compared with the first edition from 1550, the second edition is revised and significantly expanded, and established Vasari's reputation as an art historian and as the "father of art history". In his Vite de' pi?eccellenti pittori scultori ed architettori (Lives of the Most Excellent Painters, Sculptors, and Architects), as the work is titled in Italian, Vasari not only offers a series of biographical narratives but also attempts to organize and systematize them. In the eyes of the Renaissance man Vasari, the art of Antiquity had attained a high degree of perfection, but had then fallen from grace, before experiencing a rebirth ( rinascita ) beginning with Cimabue and ... More



Rufino Tamayo (1899-1991), Los Comediantes, 1986 (detail). Oil on canvas. Sold for: $1,572,500. ?Christie's Images Limited 2018.



NEW YORK, NY.- Christie's Latin American Art live auction totaled $19,492,375 with 85% sold above the low estimate across the two sale sessions May 23-24. Active in-room, phone, and online participation was seen from established collectors to new buyers with registered bidders across 36 countries, spanning the Americas, Asia, and Europe. Together with the Latin American works included in The Collection of Peggy and David Rockefeller, the spring season for the category thus far totals $31,258,125, with the online sale continuing through May 30. The top lot of the sale was Rufino Tamayo (1899-1991), Los comediantes, painted in 1986, from the Private Collection of Marta and Placido Domingo, which realized $1,572,500, against a low estimate of $800,000. Strong results were achieved for select works by Fernando Botero (b. 1932) across various media, with his landmark painting Mona Lisa painted in ... More



Kees van Dongen, The Reading (detail), 1911. 145,5 x 145,5 cm. ?Leclere/Drouot.



PARIS.- On Monday 25 June, auction house Leclere will offer a painting by Kees van Dongen (1877-1968) entitled The Reading in an impressionist and modern art sale at Drouot. Executed in 1911, this work of art marks the transition between the artist's fauve and society periods. This masterpiece stands as a tribute to his wife Augusta Preitinger and to his friend Paul Poiret. It was kept in the family of Van Dongen for over 70 years and was then acquired 30 years ago by a Parisian collector. This monumental painting, unprecedented in the art market, is the most important featured at auction in France since 2006. The Reading or Rabelais can be considered as the first masterpiece following Kees Van Dongen's fauve period. This 1911 monumental painting (145,5 x 145,5 cm), executed in Paris by the artist when coming back from a trip in Spain and Morocco, reveals both an exotic and a society inspiration. Standing as a turning point ... More
The collection of one of Australia's most avid collectors and generous patrons to be auctioned by Bonhams Australia
Fondazione Prada opens 'Machines à penser' in Venice
American Art achieves $43.3 million at Sotheby's NY; PAFA privately acquires Frederic Edwin Church masterpiece


Rosalie Gascoigne (1917-1999), Pavement III, 1998. Signed, dated and titled verso: 'Rosalie Gascoigne / 1998 / PAVEMENT', sawn wood on plywood, 69.0 x 52.0cm (27 3/16 x 20 1/2in). Est: AU$50,000 - 70,000. Photo: Bonhams.



SYDNEY.- Bonhams Australia is delighted to be offering the Australian art collection of the Late Michael Hobbs OAM to market in June. Michael was an avid collector, generous benefactor and friend to many and his collection is a testament to a lifelong passion. Spanning works from the 1960s through to present day, Michael collected vigorously and in depth, often making gifts of works to public institutions or supporting avant-garde projects. Considered a friend by many leading Australian artists, in January of 2017, Michael was recognised with a Medal of the Order of Australia for his service to the visual arts as a supporter and benefactor. Director of Bonhams Australia, Merryn Schriever said, "Michael Hobbs was an extraordinarily generous and gregarious man who was much ... More



Exhibition view of "Machines ?penser". Fondazione Prada, Venice. Photo: Mattia Balsamini. Courtesy Fondazione Prada.



VENICE.- Fondazione Prada presents the exhibition "Machines ?penser", curated by Dieter Roelstraete. The exhibition will be open from the 26 May to 25 November 2018 at the Venetian venue of Fondazione Prada, Ca' Corner della Regina. This exhibition explores the correlation between conditions of exile, escape and retreat and physical or mental places which favor reflection, thought and intellectual production. "Machines ?penser" focuses on three major philosophers of the 20th century: Theodor W. Adorno (1903-1969), Martin Heidegger (1889-1976) and Ludwig Wittgenstein (1889-1951). The latter two shared a life-long need for intellectual isolation: Heidegger spent long periods of his life in a secluded hut in the village of Todtnauberg in the Black Forest in Germany, whilst Wittgenstein retreated on several occasions to a small mountain cabin situated ... More



George Luks, The Swan Boats, circa 1922, oil on canvas. Estimate: $500,000 - 700,000. Sold for: $1,155,000. Courtesy Sotheby's.



NEW YORK, NY.- Yesterday's auction of American Art at Sotheby's New York totaled $43.3 million*, with 9 lots achieving prices over $1 million. Among the 120 lots offered were 12 works by Norman Rockwell, all of which sold, realizing a combined total of $19.8 million. The group was led by Blacksmiths' Boy – Heel and Toe (Shaftsbury Blacksmith Shop) – a monumental painting by the artist – which sold for $8.1 million. Auction highlights also included N.C. Wyeth's Portrait of a Farmer (Pennsylvania Farmer), which set a new record for the artist at auction with a final price of $6 million. Following yesterday's auction, The Pennsylvania Academy of the Fine Arts (PAFA) acquired Frederic Edwin Church's masterpiece, Valley of Santa Isabel, New Granada, from the collection of the Berkshire Museum through a private sale arranged by Sotheby's. Church is arguably one of the artists most ... More
Werner B黷tner exhibition occupies both floors of Marlborough's Mayfair gallery
Phillips announces highlights from the June Design Auction in New York
Australian artist Jonathan Zawada transforms the Sydney Opera House for Vivid Sydney


Werner B黷tner, Diet – Gei遝l der Postmoderne [Diets – Scourge of Postmodernity] (2017). ?Werner B黷tner, Courtesy Marlborough Fine Art.



LONDON.- Following Marlborough New York's Werner B黷tner show in 2016, the first exhibition in New York since 1986, Marlborough London announces their second exhibition, Plenty of Room for All Sorts of Happiness, by the leading German artist Werner B黷tner. This exhibition on both floors of Marlborough's Mayfair gallery space encompasses new works made over the last two years together with a rich selection of paintings from the 1980s when B黷tner first came to worldwide attention as part of a new generation of German artists. Their often brutal imagery and paint handling announced their caustic view of contemporary society, politics, and art itself. Imbued with a dark humour, B黷tner's work has for nearly four decades pursued one essential underlying theme: the pursuit of lucidity as a tool for survival in a sordid world. Or as the artist himself once put it: "to stay as ... More



Jean Royere, "Flaque" low table, circa 1955. Straw marquetry-covered wood. 10 x 49 3/4 x 25 7/8 in. (25.5 x 126.5 x 65.7 cm). Estimate: $180,000 - 250,000. Image courtesy Phillips.



NEW YORK, NY.- Phillips announced highlights from the upcoming auction of Design in New York on Wednesday, 6 June. Comprised of over 160 lots, the sale will include a strong selection of French and Italian design, as well as Studio Craft, with works spanning nearly a century. The sale will include works by Piero Fornasetti, Jean Roy鑢e, Zaha Hadid, and Lucie Rie, among other design masters of the 20th and 21st centuries. Cordelia Lembo, Head of Department, New York, Vice President, said, "Phillips' June Design sale will bring together important works from private collections around the globe, many of which are coming to the market first time. With a wonderful cross-section of design movements that span a variety of price points, this sale will provide collectors of all levels and interests with an exciting opportunity to grow their ... More



Metamathemagical by Jonathan Zawada. Courtesy of Sydney Opera House.



SYDNEY.- A 3D light sculpture housed within the iconic Sails of the Sydney Opera House will illuminate Utzon's masterpiece from 6pm on Friday May 25 for Vivid Sydney, the world's largest festival of light, music and ideas. Award-winning Australian artist Jonathan Zawada has created Metamathemagical – a specially commissioned, site-specific artwork that will transform the World Heritage-listed masterpiece into a digital light sculpture inspired by Australian motifs across science, nature and culture. Zawada is a leading artist with a long history of collaborating with top music acts such as Flume, The Presets, Mark Pritchard and Moses Sumney. He is uniquely suited to bring the Sails to life for Vivid Sydney, when the entirety of the Opera House is taken over by incredible music for Vivid LIVE including Solange, Mazzy Star, Ice Cube and DREAMS. Ten years ago, Brian Eno, the legendary British artist and inaugural curator ... More
Quote
Every true work of art must express a distinct feeling. Caspar David Friedrich
More News
---
MetCollects -- Episode 4 / 2018: Pier Table
---
Flashback
On a day like today, Russian painter Lyubov Popova died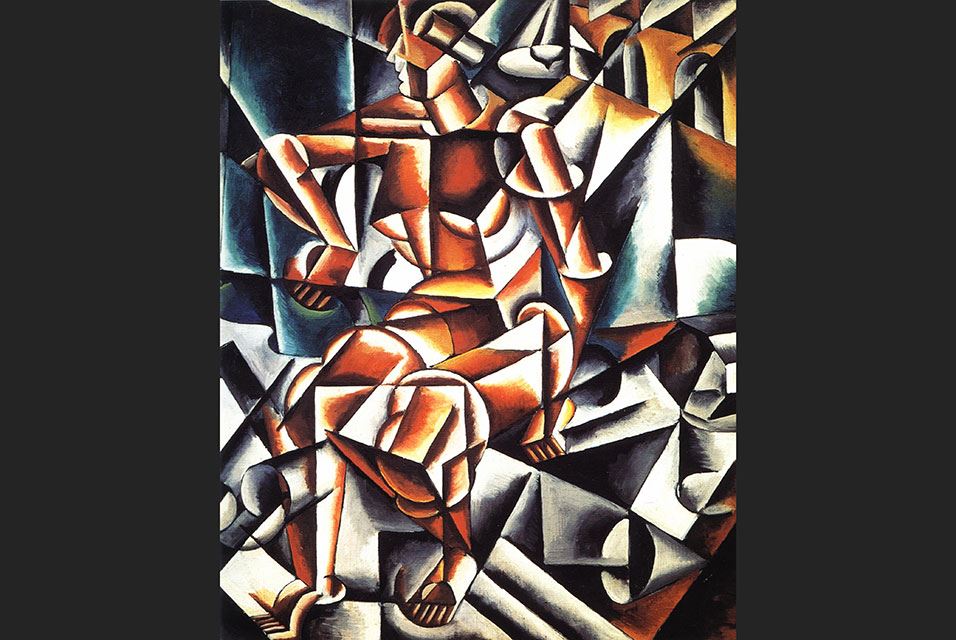 May 25, 1924. Lyubov Sergeyevna Popova (April 24, 1889 - May 25, 1924) was a Russian avant-garde artist (Cubist, Suprematist and Constructivist), painter and designer. In this image: Air+Man+Space, 1912, Oil on canvas, 125 x 107 cm, The State Russian Museum, St. Petersburg.
---

Museums, Exhibits, Artists, Milestones, Digital Art, Architecture, Photography,
Photographers, Special Photos, Special Reports, Featured Stories, Auctions, Art Fairs,
Anecdotes, Art Quiz, Education, Mythology, 3D Images, Last Week,
.
Tell a Friend
Dear User, please complete the form below in order to recommend the Artdaily newsletter to someone you know.
Please complete all fields marked *.
Sending Mail
Sending Successful